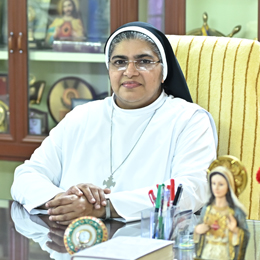 Education is an unending life long process. The aim and objective of any educational institution must be to instill in the student's genuine human and spiritual values, a genuine concern for the welfare of others and commitment to truth and justice. Education is not merely acquirement of facts but also of values which help us to improve the different facets of mankind. In Vimalaschool, to achieve this, we strongly feel that the paradigm shift should take place in the mind of all stake holders. So that when the school becomes the hub to initiate and formalize education, it has it's tenets enshrined in a good value system; the extension of which is thereby taken home where it is further strengthened.
Martin Luther King Junior once saidIntelligence plus character-that's the goal of true education'.At Vimala,we help to stimulate the minds of students and the capacities for leaning.For us, education is a personal process.Educators at Vimala,understand that it's people, who learn it's a human mind, a human heart that responds to their own experience of learning through enthusiastic, self-discovery and by inspiring a love for integrity and finally transforming resolve in their personality.
In this pursuit of excellence, I appreciate our management, Mary Matha Educational Trust, governing body members and parent fraternity for supporting the school in its every aspect. I also laud the relentless efforts of our teachers strive to focus on each and every child,monitor and mentor them appreciate their achievement and encourage them to overcome their shortcomings.
In order to find this ambience, he intensive use of a variety of thinking activities, strategies and group dynamics so that the class room becomes alive. Team work is the hallmark of vimala. Its outcome is the glorious achievement, state second rank for our student in the ICSE Board examination New Delhi 2016. I am very sure that, through the collaborative effort we can achieve more to benefit our students who are the future leaders of tomorrow.
Let the blessings of god almighty be with us.
Sr. Sini Rose CMC
Principal